Our Board of Directors include:
Pastor/Member – Rev. John A. Brockland, JCL
Executive Director – Pamela Struckhoff
President – Jimmy Pool
Vice President – Frank Mock
Secretary – Mark E. Riordan
Treasurer – James P. Devereux, Jr., CPA
Past President – Kevin Kast
Board Emeritus – James P. Devereux, Sr., CPA
Rudy Beck | Hank Cleaver, MD | Joseph Kahn, MD | Janette Rhoades | Patricia Rhoads | Mark Gietl | Frank Mock | Alex Stoner | Scott Lewis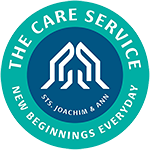 Jimmy Pool: President
Jimmy is retired after 43 years in the construction industry, the past 38 here is the St. Louis area. His strengths lie is HR and Accounting. He is a veteran of the Army, serving in the reserves from 1969 – 1975. He served on the J&A Board from 2005 – 2014 and as President 2010 – 2013. He re-joined the board in 2018 and serves on the Financial Committee. Jimmy and Denise, his wife of 43 years, provide houses at below market rental rates for the Care Service to house those in need of a roof over their head. We purchased our first house in 2009 and have added 4 houses since then for a total of 5 at present.
Jimmy is also Chairman of the Board of TREE House of Greater St. Louis, a not-for-profit established to serve children and adults with disabilities by using horses.
His hobbies are horseback riding, Cowboy Mounted Shooting and Knife Forging/making along with other activities we don't need to mention. We love animals, having 2 dogs, 3 cats, 3 horses, 2 ponies, and mule and a mini donkey. 2 more horses live here, just for fun.
Jimmy and Denise have 2 grown boys, one granddaughter and 4 step-grandchildren, all so precious to us. Our parish is the Immaculate Heart of Mary in New Mele.
Jim Devereux, Jr., CPA - Treasurer
James P. Devereux, Jr. is a St. Charles native, who grew up as an accountant's son. He has eleven years of professional experience as a business accountant. He is the owner of Devereux and Company, CPAs and Business Advisors. His public accounting firm includes audits of not for profit, for profit companies, audits of government entities and tax services for small businesses. James is the senior consultant for business and tax planning strategies.
James emphasizes a key component to the modern day business, bringing information to the business owner in a real-time basis so they can make effective management decisions.
James has a Masters in Business Administration, Masters in Information Systems and Bachelors in Chemistry/Environmental Sciences. His employment experience includes working for Halliburton Construction Company and several small information technology startup companies before finding what he calls a niche in the small business accounting field. His diverse background including information technology provides a unique aspect of service to his clients that comparable companies cannot provide.
Mark Riordan – Secretary
Mark Riordan is a Senior Vice President/Investments, who joined Stifel Nicolaus in 1986. Mark's family has been involved in the investment business for over 50 years, and Mark has personally been helping investors pursue their financial goals for over 17 years.
Mark has established strategies to help clients minimize risk and maximize returns from their portfolios. He closely monitors risk and asset allocation with an emphasis on personalized service.
Mark is married, has four children, and resides in St. Charles, Missouri. He is a past president and board member of a large service fraternity and currently on the finance board of his church. He is also the Vice President of the Board for the Center for Head Injury Services in St. Louis. Mark enjoys reading, camping, and being with his family.
Jim Devereux, Sr. – Board Emeritus
Jim Devereux is a Certified Public Accountant practicing in the St. Louis Metropolitan Area and has been a Member of the Board since 2003.
His experience in accounting has been a great contribution to the Care Service and all the nonprofits he is associated with. He also sits on the board of the Foundry Arts Centre of St. Charles.
Kevin Kast: Past President
Kevin Kast is Managing Member of Covenant Senior Care, a development company for the care of older adults. Previously Kevin was a Divisional President for Hospital Sisters Health System in Illinois, accountable for three regional hospitals. Prior to that Kevin was President/CEO for SSM St. Joseph Hospital/St. Joseph Hospital West for over 15 years. Kevin has served in many board capacities, including Board Chair for the Economic Development Council of St. Charles, Board Chair of Greater Decatur Illinois Chamber of Commerce, Board Member of the Missouri Hospital Association, the American Hospital Association, and join the Board of the Care Service in 2014. Kevin is semi-retired. He and his wife, Jan, have four grown children and are members of Sts. Joachim and Ann Parish.
The JACares Newsletter
Sign up for our newsletter to stay connected and informed.