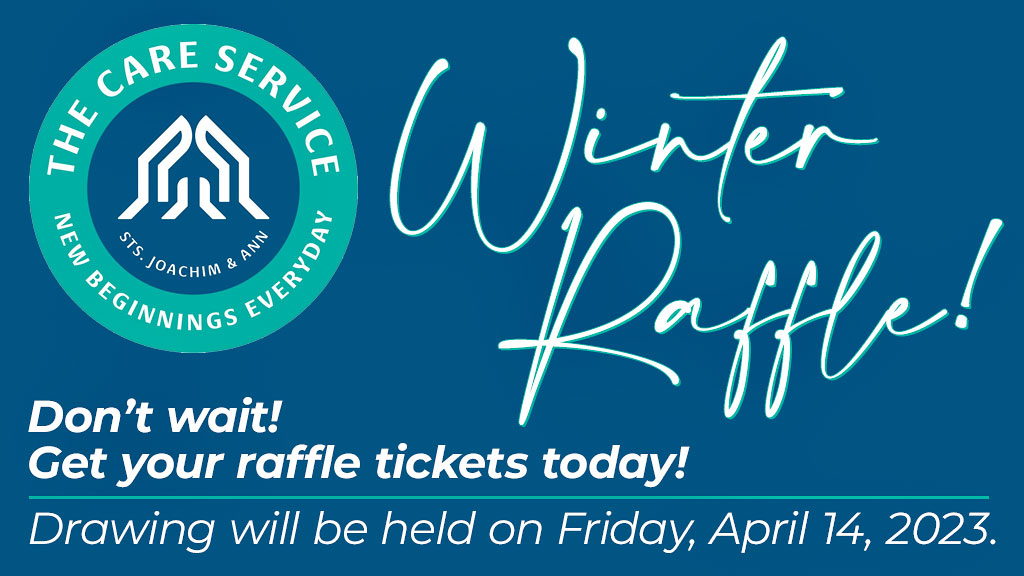 Funds raised from the Winter Raffle are critically needed to allow us to continue our work of preventing homelessness and hunger in our local community. This year we are already seeing a 25% increase in the number of individuals receiving assistance, support, and resources from The Care Service.
Get your raffle tickets today! Drawing will be held on Friday, April 14, 2023.
First Prize $1,000, Second Prize $500, Third Prize $250.
Proceeds from the Winter Raffle help people like Ken and Laney.
Ken's home was a tent under a bridge when he met the Care Service Street Outreach team. For 14 years the 48-year-old, who suffers from schizophrenia, had been homeless. Care Service staff helped Ken apply for a housing assistance voucher to supplement his monthly disability check and advocated to landlords on his behalf. Once an apartment was located, the Care Service provided a deposit, and first month's rent. For the first time in years Ken feels safe and is paying his bills on his own.
Laney's three small boys suffered from on-going health issues due to mold in their small, two-bedroom apartment. The 27-year-old single mom's landlord was unwilling to resolve the problem. With nowhere else to turn, Laney reached out to the Care Service. Laney found a mobile home she could afford to rent but had no money for the deposit. The Care Service stepped in to assist with the rent deposit and a staff member provided Laney with the on-going support she needed to settle her family in their new safe, clean home.
Raffle Rules & Regulations
The price per ticket is $10.00 (ten dollars), payable by cash, check (made to the order of: Sts. Joachim and Ann Care Service), or charge card and mailed to: Sts. Joachim and Ann Care Service, c/o Development Office, 4116 McClay Road, Saint Charles, MO 63304.
Tickets may also be purchased online on our website at www.jacares.org.
Discount offers: $25 = 3 tickets; $40 = 5 tickets; $100 = 12 tickets.
Prizes will be as follows: First Prize - $1,000, Second Prize - $500 Third Prize - $250
Checks and cash will be deposited upon receipt. Checks that are returned for insufficient funds or other reasons will disqualify the tickets covered by such check. Any fees accrued will be charged to the buyer.
All tickets must be received prior to the drawing on April 14, 2023. Winners need not be present to win.
All prizes are subject to, and the winners are fully responsible for federal, state and local income taxes. Sts. Joachim and Ann Care Service has no responsibility for the payment of any taxes associated with the prize.
Winners must accept ownership of the prize(s) by April 28, 2023. The award will be given one week after the drawing to allow time to process the necessary paper work for any federal, state or local taxing authorities.
All proceeds will be used to further the mission of Sts. Joachim and Ann Care Service to "serve those in crisis and to prevent homelessness and hunger."
Persons must be 18 years of age or older to participate in this raffle and to be awarded a prize.
Alternate method of entry, no donation required. One entry per person may be submitted by mail during the submission period.