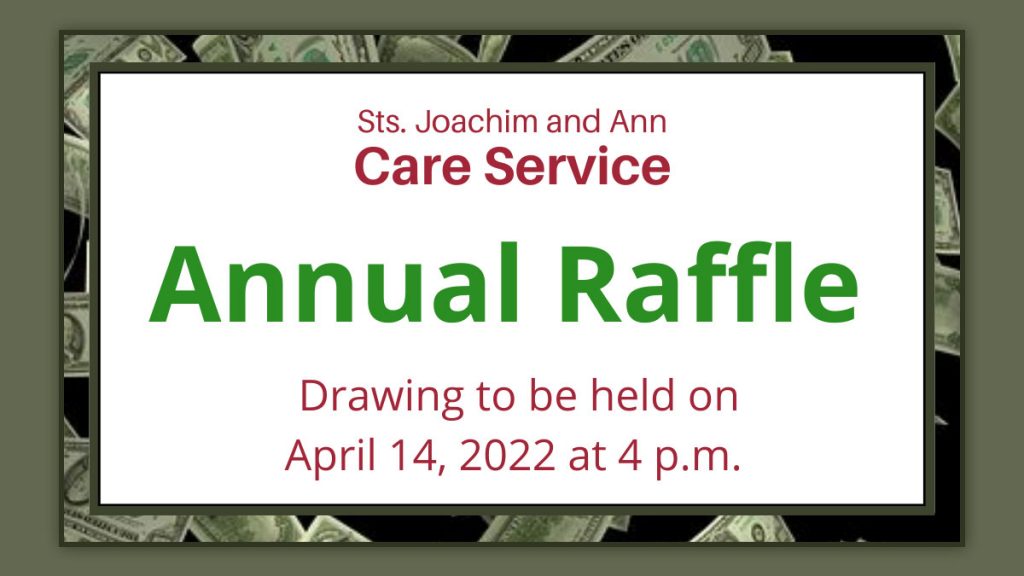 Drawing to be held on April 14 ,2022!
Raffle Rules & Regulations
The price per ticket is $10.00 (ten dollars), payable by cash, check (made to the order of: Sts. Joachim and Ann Care Service), or charge card and mailed to: Sts. Joachim and Ann Care Service, c/o Development Office, 4116 McClay Road, Saint Charles, MO 63304.
Tickets may also be purchased online with a credit card on our website as well at www.jacares.org.
Discount offers: $25 = 3 tickets; $40 = 5 tickets; $100 = 12 tickets.
Prizes will be as follows: First Prize - $1,000, Second Prize - $500 Third Prize - $250
Checks and cash will be deposited upon receipt. Checks that are returned for insufficient funds or other reasons will disqualify the tickets covered by such check. Any fees accrued will be charged to the buyer.
All tickets must be received prior to the drawing on April 14, 2022. Winners need not be present to win.
All prizes are subject to, and the winners are fully responsible for federal, state and local income taxes. Sts. Joachim and Ann Care Service has no responsibility for the payment of any taxes associated with the prize.
Winners must accept ownership of the prize(s) by April 28, 2022. The award will be given one week after the drawing to allow time to process the necessary paper work for any federal, state or local taxing authorities.
All proceeds will be used to further the mission of Sts. Joachim and Ann Care Service to "serve those in crisis and to prevent homelessness and hunger."
Persons must be 18 years of age or older to participate in this raffle and to be awarded a prize.